And Promotional Seed and Herb Packets
Custom printed seed packets can be a unique way to promote your business during the growing season. Seed packets show that you are eco-friendly and support sustainable agriculture. Unlike other promotions you can create an effective and low cost spring marketing campaign that gets people thinking about warmer weather and your business. Choose to give flowers, herbs, or even garden plants in your promotional seed packets.
If you're looking for a creative party favor, thank you, or give away custom seed packets are an excellent choice. Seed packets can be imprinted with custom artwork that expresses the appreciation for participation and sends a message that a lasting relationship sprouts good things for all.
Our custom imprinted promotional seed packets are a great way to help your next promotional campaign grow and get your company's name deep rooted in people's minds! From custom printed promotional herb seeds to custom printed flower flower pots, we've got all the promotional seed packets you could ever need!
With so many styles and seeds to choose from, we're sure to have the custom printed seed packets you're looking for! Choose from Forget-Me-Not seeds, Black-Eyed Susan Seeds, custom printed Sunflower seed packets, texas Bluebonnet packets, Wildflower imprinted seed packets, Sweet Basil seed packets and much more! We custom print many different types of seed packets all customizable with your company logo!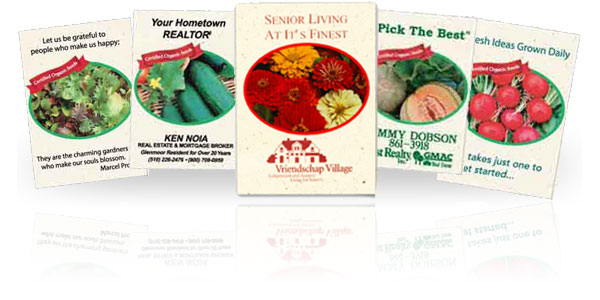 Some of the custom printed seed packet styles we offer include:
Custom Printed Seed Packets
Organic Seed Packets
Postcard Seed Packets
Custom Designed Seed Packets
Business Card Seed Packets
Mailable Seed Packets
Custom Printed Flower Seed Packets
Custom Printed Herb Seed Packets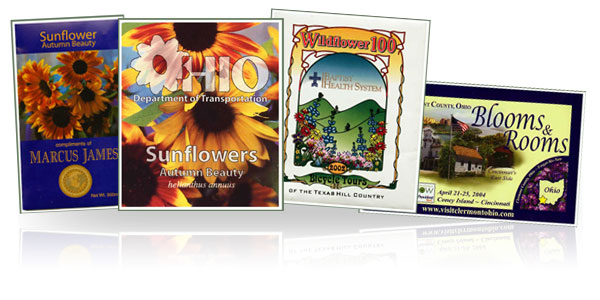 Not looking for custom printed promotional seed packets? Looking for other types of promotional products? We offer thousands of promotional products all designed to help promote your business! For more information on our customized seed packets or any of our other promotional products, feel free to call us at the number above or click here to visit our HUGE promotional catalog!